General
TensileMill CNC XL - Flat Specimen Preparation is a powerful and dynamic addition to any manufacturing floor. High powered spindle and servos increase material removal rates. Mach4 based CNC control and substantial memory make large, complex programs easy to load and execute. For smaller jobs, wizards make on machine programming fast and easy. Quickly create pockets, hole patterns, text engraving and more.
TensileMill CNC XL - Flat Specimen Preparation is the upgrade from our classic TensileMill CNC. This machine is designed with larger table dimensions, travel distance, tooling options, and servo power to accommodate your high quantity, tougher material tensile sample preparation needs.
Major Specifications
Travels (X/Y/Z): 15.7"/9.1"/15.7" (400mm/230mm/400mm)
Table Dimensions: 31.5" x 9.4" (800mm x 240mm)
Load Capacity: 330 lb (150 kg)
Spindle Speed: 10,000 RPM
Spindle Power: 5 hp (3.7 kW) Peak
Number of Tools: 10
Tool Shank: BT30
Max Feed: 1000 ipm (25.4 m/min)
Controller
Our easy to use touch screen controller is equipped with our complete Carbon software. Our control systems include 64 Gb of storage, 4 Gb of RAM, WiFi, Ethernet, USB ports, macro B programming, 254 tool offsets, 126 work offsets, helical interpolation, drilling canned cycles, scaling and mirroring, advanced trajectory planning, cutting edge dual mode cutter compensation, and more. Along with the tensile milling software interface, Carbon also allows the operator to access the MACH4 Industrial CNC Software used for professional CNC Control functions. Our Carbon software is constantly having new features developed, and every TensileMill CNC XL system includes updates at no additional cost.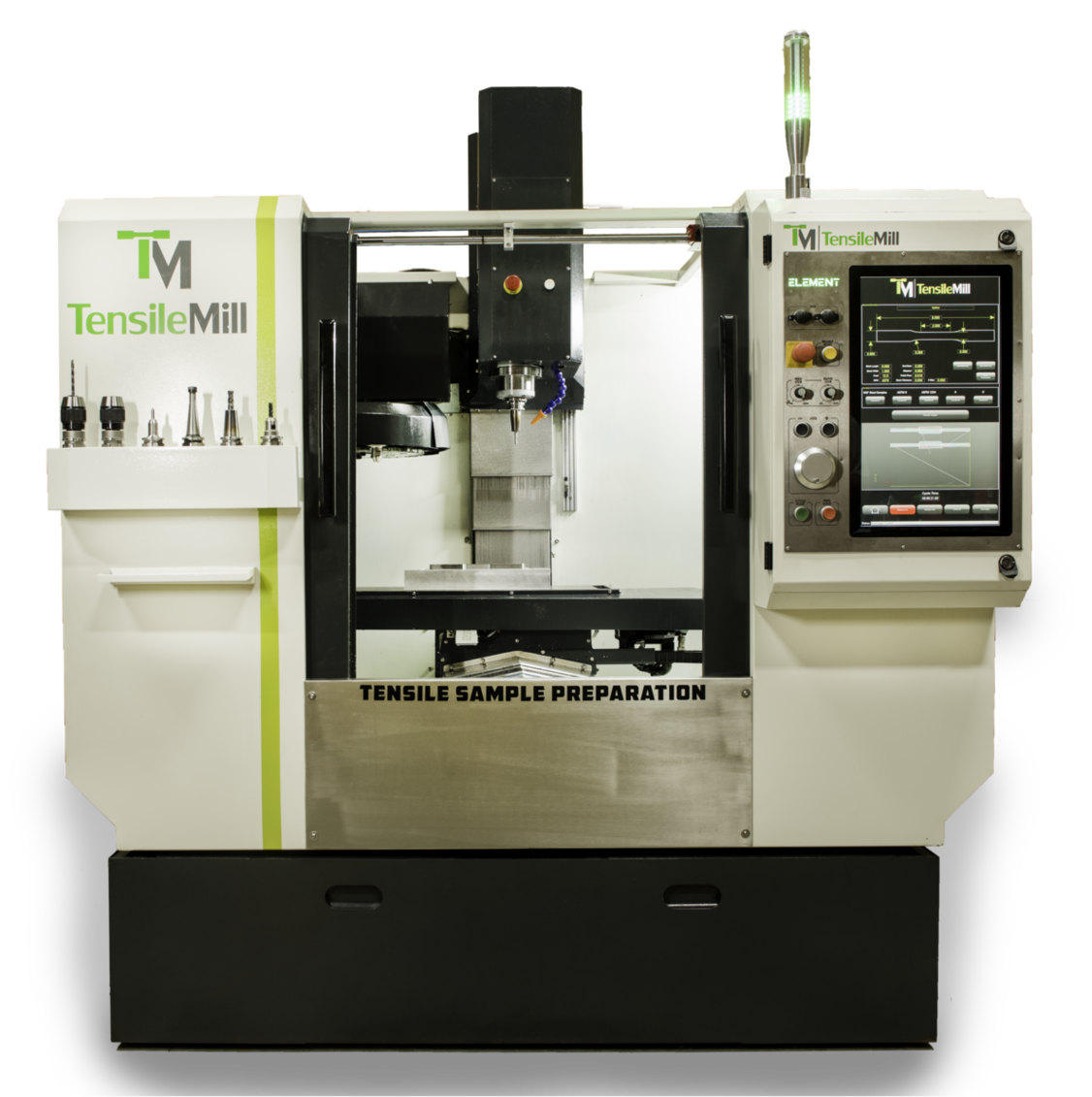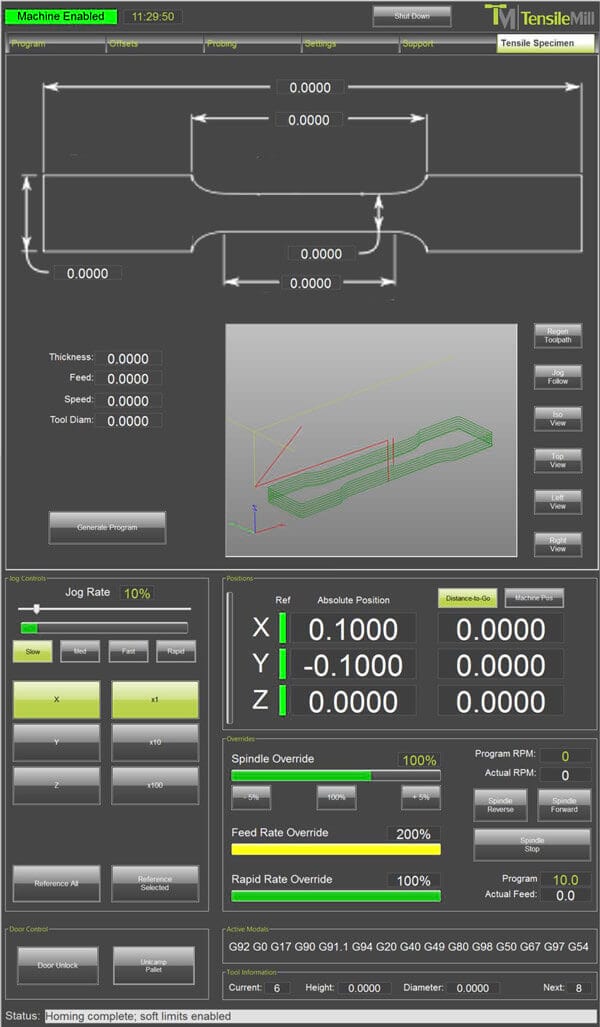 Features
Rugged cast iron frame and linear guide ways provide a stable foundation for high speed machining.
Large 20 mm ball screws on X and Y, 25 mm on Z.
Belt driven 5 horsepower 10,000 RPM servo spindle with BT30 taper provides the power for high material removal rates.
Servo spindle with full synchronous position control. Disc spring tool clamping with collet style gripper. Air over hydraulic tool release.
10 station umbrella style automatic tool changer. Assign any tool to any position.
30 Taper CNC Machining Center
Clean and simple control panel with large format touch screen, MPG and integrated status light.
Mach4 control software is powerful and flexible. Integrated wizards for on machine programming. Fanuc G code compatible, Fanuc Macro B included
Industrial PC loaded with a 64 GB solid state hard drive and 4 GB of RAM.
Wireless and Bluetooth standard
5th generation 64 bit Broadwell processor
Technical Specifications
Dimensions

Dimensions
(D x W x H)

66.1 x 75.79 x 86.54 in

Table Size

31.5 x 10.24 in

Load Capacity

330 lb

T-Slot Size

.63 in

Weight

2976 lb

Working Travel X

15.75 in

Y

9.1 in

Z

15.75 in

Spindle

Speed

10,000 RPM

Power

5 hp

Torque

10.8 lb-ft

Lubrication

High speed grease

Bearings

Angular contact ball

Auto Tool Changer

Taper

BT30

Pull Stud

MAS P30T-1

Max Tool Diameter

3.14 in

Max Tool Weight

13.2 lb

Tool Change Type

Umbrella

Tool Numbering

Random pot assignments

Tool Change Time

6sec

Servos

Servo Power

1.75 hp

Servo Torque

1175.4/3299.6 oz-in

Max Feedrate

1000 ipm

Ball Screws

PMI double nut, 20 mm on X and Y, 25 mm on Z

Power

Input Voltage

220 3 phase

Additional Features

Position Repeatability Accuracy

0.01mm

Motor Drive

Servo

Drive Mechanism

Precision Ballscrew

Frame

Cast iron

Connection Requirements

Pneumatic (optional)

Control

Type

PC based Mach4 control

Processor

64 bit 5th generation Intel Broadwell

Program storage

64 GB SSD, unlimited number of programs

Memory

4 GB standard (upgradable)

Display

Full color multi-touch (glove compatible)

Modes

Auto/MDI/Jog, auto switching

Wizards

On machine programming with graphic wizards.

Units

Inch/Metric

Overrides

Feed (0%-150%), Spindle(50%-150%), Rapid(0%, 25%, 50%, 100%), all user configurable

G code

Fanuc compatible, Mach3 compatible

Custom Macro

Fanuc Macro B compatible

External Communication

TCP Modbus

M-Codes

Unlimited user defined M codes, 5 inputs and 5 outputs available (upgradeable)
What standards can be programmed into the TensileMill CNC XL flat tensile preparation?
The user-friendly, intuitive software that comes standard with TensileMill CNC XL allows the operator to use the machine as both a tensile sample preparation and a standard automatic CNC machine. Common ASTM, ISO, DIN, and JIS standards are pre-programmed into the software prior to dispatch. At any time the user may add additional parameters using the convenient 21" LCD touch screen with a sample picture. Simply enter the correct measurements near the correct part of the tensile specimen and the machine will do the rest. The tensile parameters will be saved for future use and can be accessed with a single click of a button. Learn more about TensileMIll CNC XL by contacting our qualified CNC consultants today.
What is the maximum hardness value of tensile specimens that can be prepared on TensileMill CNC XL?
Depending on the tooling and material in question, specimens with hardness value up to 40 HRC can be milled with a no-frills package. Once the hardness value moves up to 45-50 HRC certain upgrades are required. These upgrades include special tooling and programming. It goes without say that the thickness of the tensile samples plays a large role in this. Contact our CNC consultants today to provide all of your technical requirements to receive an accurate quotation.
What extra steps can I take to prolong the life of my tensile sample preparation machine?
Following the basic preventative maintenance procedures is the general rule for most all quality control equipment. A special recommendation is to keep your unit clean and keep the lube tank full. Contact us should you have any further questions.
What separates TensileMill CNC XL from other tensile sample preparation manufacturers?
TenisleMill CNC XL - robust flat tensile sample preparation is the leader in high volume tensile sample preparation. The superior design of this tensile specimen preparation machine combined with the intuitive Tensile software exclusive to TensileMIll CNC Inc. makes tensile sample preparation a breeze. This tensile sample preparation unit is manufactured with a 5 HP, 10,000 RPM servo spindle with BT30 taper tool. When it comes to power, efficiency and quality output of tensile sample preparation, the XL is the answer. Contact us today to learn more.
What is the longest tensile specimen that you can prepare with your TensileMill XL?
The longest tensile specimen that can be fit into the TensileMill XL is in accordance with the working travel distance of (X by Y by Z) 15.75 by 15.75 by 9.1. This machine is ideal for efficient tensile sample preparation capabilities. The unit can handle large stacking volume of various material hardness with ease. If you have a laboratory which requires a high volume of tense preparation, the XL is the perfect fit for you. Request quote today to learn more.
Where can I acquire additional spare parts and consumables for my tensile specimen preparation machine?
TensileMill CNC XL will be supplied with all your necessary end-mills and tooling fixtures for long term operation. Additional end-mills and fixtures can be easily acquired from TensileMIll CNC requesting a quote today.
Though the tooling fixtures are designed to last a lifetime with proper maintenance, additional fixtures can also be purchased down the road.
What are my clamping fixtures options for TensileMill CNC XL?
The XL model is a versatile machine offering the best of the two worlds of tensile specimen preparation and general purpose CNC machining. The unit can be equipped with few options for tensile clamping fixtures:
Double Clamping Fixture (Standard)
TensileMill CNC XL comes standard with a double clamping fixture.
Technical Details:
This option offers you the ability to prepare 2 stacks of specimens of up to 12? long, 2? wide and up to 1? thick (depending on the material).
Triple Clamping Fixture (Upgrade)
The triple fixture is an upgrade option that is commonly used for higher volume, regular and/or sub-size specimen preparations.
Technical Details:
This options offers you the ability to prepared 3 stacks of specimens of up to 12? long, 1? wide and up to 1? thick (depending on the material). The side fixtures can be removed to prepare a thicker specimen in the middle fixture. This offers added versatility to the end user.
Custom Clamping Fixture
Sheet metal fixtures, tube fixtures and others are available based on your specific technical requirements. TensileMill CNC Inc. is capable of designing a specialty fixture based on your unique needs.
What comes standard with TensileMill CNC XL sample preparation machine?
The XL a specialty unit that can be customized to your specific needs. The base price of the machine includes the turnkey solution based on your technical specifications. Base fixtures, clamping fixtures, ER collets, End Mills, ISO 20 Spindle Upgrade and more are a part of this upgraded version of our Classic unit.
What are some of the unique advantage of the TesileMill CNC XL relative to the TensileMill CNC Classic and the MINI models?
The capacity offered by TensileMill CNC XL is superior to both the Classic and the MINI. The machine offers a bigger and badder frame capable of handling tougher and larger samples. The standard tool changer allows for automation of tensile sample preparation needs. The unit can be programmed for tensile sample prepration and for advanced CNC machining requirements with the state of the art software that comes standard with the unit.
Where can I acquire additional spare parts and consumables for my tensile specimen preparation machine?
How many tensile specimens can I prepare at any one time?
In order to pinpoint the quantity of specimens that can be prepared in one cycle, we advise that you speak with our Product Consultants to further discuss your application. Flat tensile milling quantity of samples and the time it takes to complete the machining process will depend greatly on the material type, the hardness and thickness of your material. Submit your request or call us today for additional details!
What volumes of tensile sample preparation can the TensileMill XL handle on daily basis while maintaining maximum machine life longevity?
TensileMill CNC XL is a robust tensile sample preparation machine. The unit is designed to run 24-7 with only the consumables being a thing of attention. Just like any machine, preventative maintenance is an essential part of prolonging the unit's lifespan. Be sure to read the manuals and follow instructions accurately to get the maximum use out of the equipment for many years to come. Contact our engineering team today should you have any questions.