Tensile Specimen Preparation Machine
General
TensileMill CNC MINI – Compact Flat Tensile Test Sample Preparation is better than ever. Do not let the apparent "size" of the unit full you. This machine is specifically design for the ultimate flexibility in tensile specimen preparation as well as full CNC machining capabilities. The technical specifications speak for themselves.
It has never been easier to prepare high quality tensile specimens with ease. Our TensileMill CNC MINI comes standard with a 10" LCD screen equipped with our famous Tensile Software. The machine is operated by our powerful Carbon software with a user-friendly tensile milling interface. The interface allows the operator to quickly and easily enter your desired tensile specimen size based on the parameters listed in your ASTM, ISO, DIN, JIS or other industry standard. By simply entering your required measurements, the machine is ready to mill in seconds. Despite the small size of this machine, the standard 2.2kW (3hp) Water Cooling Spindle along with our designated tooling can prepare soft, hard and Inconel materials in large volumes.
The tensile software interface saves and provides quick access to previously entered specimen sizes. It also includes a diverse library of preprogrammed tensile specimens allowing the operator to quickly launch a program without having to enter any measurements at all. With your new TensileMill CNC MIN - Compact Flat Tensile Sample Preparation machine you may also upgrade to our Carbon software interface, making this unit a hybrid of tensile sample and a CNC machine. Our intuitive and powerful CNC control system comes with virtually endless possibilities.
Controller
Our easy to use touch screen controller can be upgraded to a complete Carbon software. The upgrade includes a 21" touch screen with 64 Gb of storage, 4 Gb of RAM, WiFi, Ethernet, USB ports, macro B programming, 254 tool offsets, 126 work offsets, helical interpolation, drilling canned cycles, scaling and mirroring, advanced trajectory planning, cutting edge dual mode cutter compensation, and more. Along with the tensile milling software interface, Carbon also allows the operator to access the MACH4 Industrial CNC Software used for professional CNC Control functions. Our Carbon software is constantly having new features developed.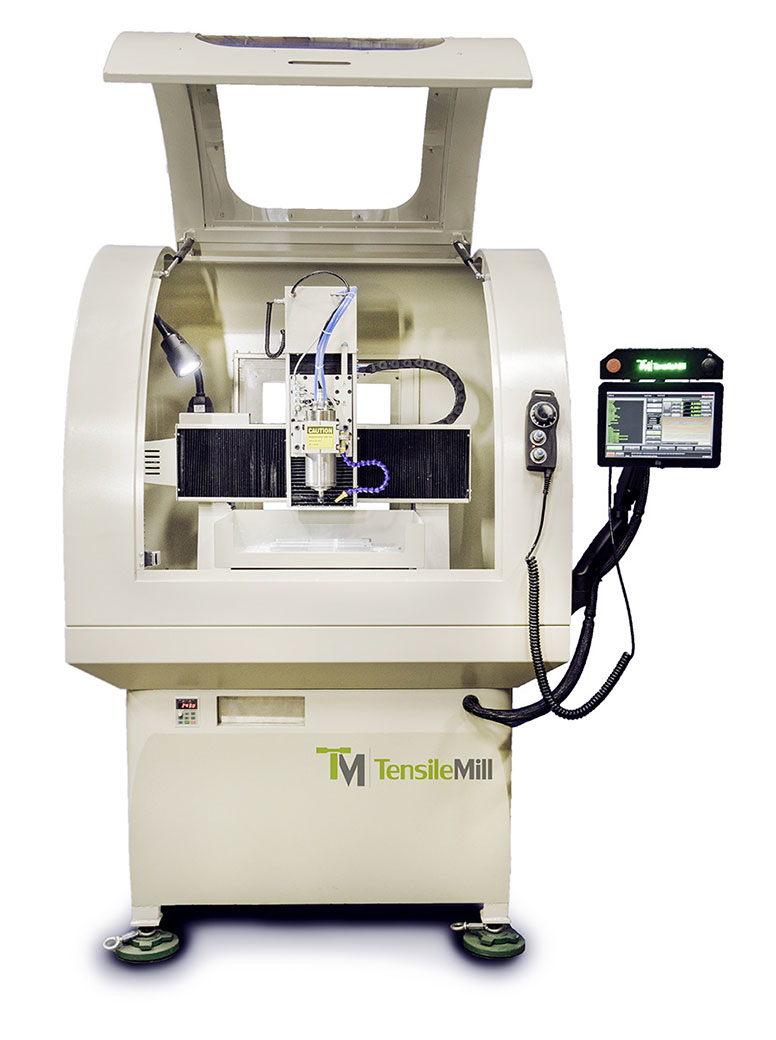 TensileMill CNC MINI - Control Panel Operation
Loading and Unloading Fixture for Tensile Specimen Preparation
TensileMill CNC MINI Training and Installation Video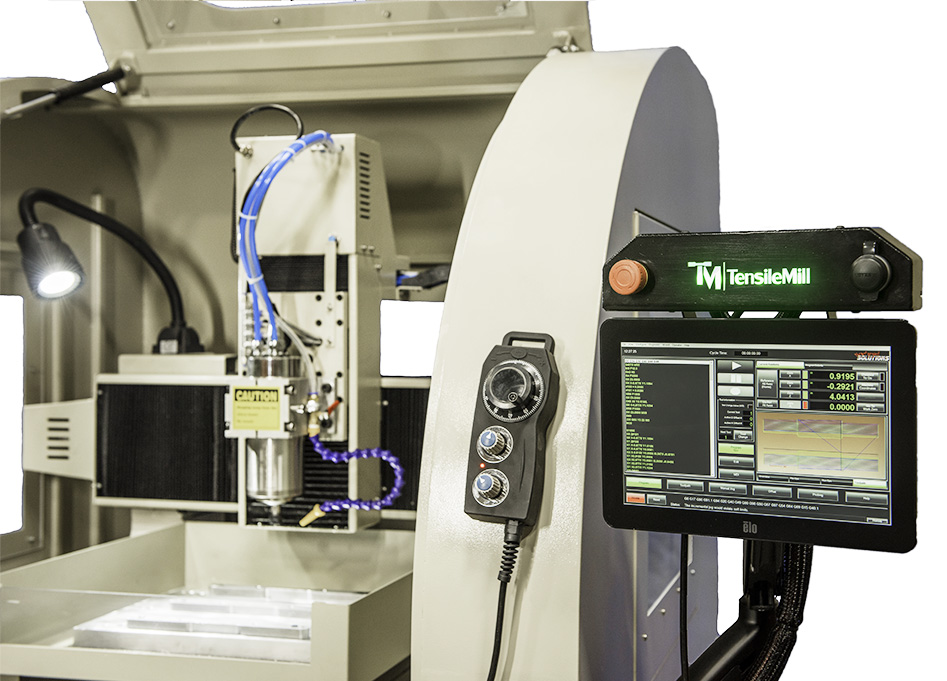 Specifications
TensileMill CNC MINI is a compact high speed, machining center designed for the testing industry in mind. Although small in size, TensileMill CNC MINI is built on a heavy cast iron frame and all axes slide smoothly on linear rails. 24,000 RPM ISO20 spindle and high powered servos provide excellent machining capability.
Technical Specifications
Dimensions

Dimensions

44.5 x 42.00 x 70.0 in (1130 x 1066 x 1778mm)

Working/ Traveling Area

400mm x 400mm x 200mm ( 15.75 x 15.75 x 7.87 inch)

Weight

1500 lb (680 kg)

T-Slot Size

12mm (0.472")

Spindle

Rotating Speed of Spindle

24,000rpm

Spindle Motor Power

2.2 KW (3hp) Water Cooling spindle

Taper

ER 20 Collet / ISO20 Optional

Servo

Servo Power

0.54 hp (400 W)

Servo Torque

566.0 oz-in (4.0 Nm)

Max Feedrate

500 ipm (12.7 m/min)

Power

Input Voltage

220 V 1 ph

Controller

Controlling Code

TensileMill CNC Interface on 10" Touch Screen Control

Full Carbon CNC Package

Upgrade Available

21" touchscreen
Full Carbon Interface
Tensile Interface

Machine Volume

Loudest Volume at Point of Entry
70 – 90 dB

Additional Features

Position Repeatability Accuracy
0.01mm
Max Engraving Speed

10,000mm/min

Motor Drive
Servo
Drive Mechanism

Precision Ballscrew

Tool Shank
Up to 12.00mm
Frame
Cast iron
Connection Requirements
Pneumatic

Options:

TurnKey Package

Standard with Main Instrument

(1) .250" ER Collet
(1) .250" Shank Endmill
(1) Triple Clamp Fixture
3 Axis Servo Motor Upgrade

Upgrade Available
What are the common consumables for the MINI and where can I get them?
The MINI comes standard with a recommended end-mill for your material application. Softer materials require different end mill bits than the harder materials. Our engineers provide the best recommendation based on the type and hardness of the material that you will be milling and the overall milling volume.
All end-mills are designed and manufactured uniquely for tensile sample preparation needs. As a result, the longevity of each unit is superior to any comparable end mill on the market.
The average cost of end-mills between $35.00 - $80.00 / bit. Bulk options are available to save you more. You may purchase the bits directly from TensileMill CNC by requesting a quote today.
The tooling fixtures, provided properly maintained, are designed to last for decades to come. Our engineers will train your operators on preventative maintenance during the 1 day training and installation. Additional preventative maintenance instructions are provided with the manual of the equipment.
Can I stack samples for fast tensile sample preparation?
Stacking samples is the perfect way to expedite your tensile sample preparation. TensileMill CNC offers a standard clamping device for your stacking needs which allows for fast tensile sample preparation for virtually any material. The clamping device allows you to stack samples up to 1" in thickness. The specimens are firmly held in place, allowing the machine to run its mill until the perfect tensile samples are produced. Specialty clamps are available based on your unique specimen needs. Learn more about fast tensile sample preparation or request quote.
Can I upgrade to the full carbon CNC software package with the TensileMill MINI?
Absolutely. When you request a quotation from TensileMill CNC, you will receive an option for Software upgrade for the MINI allowing it to operate both as a Tensile Sample Preparation Machine as well as a CNC capable machine.
What is the standard clamping fixture that comes with the MINI for tensile sample preparation?
Though compact, the MINI sample preparation machine comes standard with a triple sample fixture. This fixture is designed to maximize production efficiency and minimize operator involvement time. It allows to stack 3x the samples (or sample stacks). By clicking a pre-set setting in the software, the operator can get he machine started and move on to other projects while the samples are being prepared only to come back to accurate tensile specimens.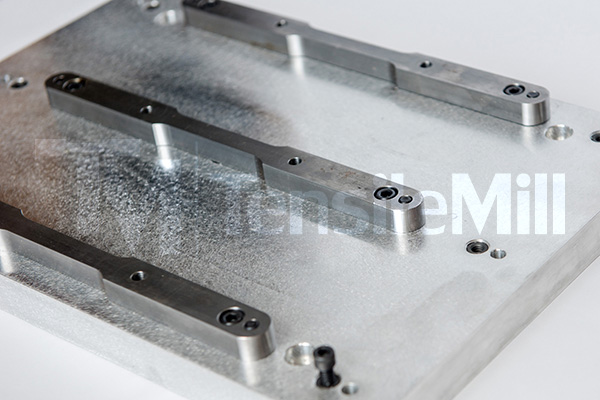 What comes standard with a unit's turnkey package for the MINI?
The MINI comes standard with a base triple-position clamping fixture. The base fixtures comes with 1 size clamp for each position. This allows the user to mill a minimum of 3 samples at any one given time. The turnkey solution accounts for starting samples of up to 12" in length. Custom solutions are available.
Additionally to the base fixture and the clamping fixtures, the unit comes with the material appropriate ER Collet and Endmill for long term machine use.
Additional base fixtures, clamping fixtures, and endmills can be ordered at any time by submitting request.
How many tensile specimens can I prepare at any one time?
In order to pinpoint the quantity of specimens that can be prepared in one cycle, we advise that you speak with our Product Consultants to further discuss your application. Flat tensile milling quantity of samples and the time it takes to complete the machining process will depend greatly on the material type, the hardness and thickness of your material. Submit your request or call us today for additional details!
What are the benefits of upgrading to ISO 20 Spindle?
The standard spindle on the MINI is 1.5kw - 2hP. If you have tougher material applications for tensile sample preparation, the upgraded spindle is the optimal choice for you. The upgrade provides you with a 2.2kw - 3hP option. This preserves the life of your machine for many years to come when milling tough materials.
How thick can the starting blanks be on the standard triple sample fixture?
It is advised that the thickness of the starting blanks should always be close to net size. That said, each one of the 3 clamping fixtures can comfortably accommodate blank widths of 1.5" (38mm). Should your sample be wider, please consult our engineering staff to the get the optimal solution for the milling process.
What upgrades are available for the MINI CNC milling machine?
The MINI can be enhanced with our Turnkey Package including an ER collet, shank endmill, and a custom fixture. Full Carbon CNC Package that allows the MINI to operate as an advanced CNC machine for advanced applications. The spindle can be upgraded to a 2.2kW ISO20 holder allowing the machine to cut through thicker samples with no sweat. Last but not least, the 3 axis servo motor upgrade allows for a faster and even higher accuracy and precision for your CNC machining needs.
If you've been waiting for a reason to improve your systems, this is it. The TensileMill MINI is not only the leading tensile test specimen preparation unit on the market, it's one your lab will benefit from for years to come. Contact us today to find out more about what the MINI can do for you.
What is the benefit of upgrading to the 3-Axis Servo Motor?
The 3 axis servo motor upgrade will give you a faster and more accurate axis movement for the MINI. This is an excellent upgrade for advanced CNC machining requirements.
What spare parts are required for the MINI, where can I get them, and how soon will they come?
The end mills range from $30-60 can be ordered here with TensileMill CNC.
After a couple years of service we found that the spindle may require replacement. We have seen them run for as many as 14 years and as little as 6 years in a heavier production environments before this happens. The spindle's replacement cost is around $1000.00 and can also be ordered directly with TensileMill CNC Inc.
Most spare parts and consumables are available in-house or can be delivered within a few short weeks. Contact us today or submit your request on-line.
What differentiates the MINI from your classic TensileMill CNC model for flat tensile preparation?
The MINI and the classic models have a number of technical differences for flat tensile preparation that can be viewed in the comparison chart upon request. The main differences between the tensile sample preparation equipment can be summarized in size, volume capacity and costs. TensileMill CNC MINI is a smaller unit designed for small to medium volume of sample preparation. This flat tensile preparation machine is a more cost effective solution to the classic TensileMill CNC if used a standalone tensile sample preparation equipment. When fully upgraded, the MINI proves itself to be the ultimate cost-effective solution for flat tensile sample preparation equipment. Request a detailed quotation today to learn which flat tensile preparation machine would work best for your facility.
How do you setup and operate the TensileMill Mini?
What is the proper use for TensileMill CNC MINI in our laboratory when it comes to tensile sample preparation equipment?
Any laboratory that has a lower quantity of tensile sample preparation needs (5-45) samples per day will draw high value for our TensileMill CNC MINI. This compact, yet robust, tensile milling CNC unit is capable of handling various types of metal and composite materials. Its state-of-the-art design and an attractive price point will be sure to fit your laboratories budget. The unit is equipment with our tensile software interface allowing you to experience the ease of use that the larger machines offer. Additional CNC machining requirements can also be met with the MINI by upgrading to our full Mach4 Carbon package. All and all, tensile preparation is made easy with your TensileMill CNC MINI. Request a quote today.
What type of recirculating fluid is required for the MINI?
The MINI is equipped with an internal recirculating fluid chamber. The fluid needs to be changed when it starts to produce a foul odour. This usually starts happening after 6-12 months. Generally speaking, the spindle cooling fluid only needs to be changed once a year and the cutting fluid needs to be topped off when it gets low.
Can I see the TensileMill CNC Mini preparing a tensile specimen?
What is the largest tensile sample specimen that can be prepared with TensileMill MINI?
The largest tensile sample specimen that can be prepared with the TensileMIll CNC MINI - Compact flat tensile sample preparation machine is in accordance with the X, Y and Z travel specifications of the machine. The MINI has a working travelling area of 400mm x 400mm x 200mm (15.75 x 15.75 x 7.87 inch). These capabilities allow the MINI tensile preparation machine to prepare virtually any type of tensile samples based on the appropriate Industry standards. Learn more by contacting us today.
What is the best lead time for TensileMill MINI - tensile preparation machine?
At the current moment, the TensileMill MINI tensile preparation machine has been sweeping the market off its feet. The vast volume of orders we had received over the last number of weeks is slowing down the production times. Contact us today for your tensile preparation needs to find out how fast we can have the MINI shipped to your facility.