General
With TensileMill CNC - Flat Specimen Preparation it has never been easier to prepare high quality tensile specimens with ease. Our TensileMill CNC is operated by our powerful Carbon software with a user friendly tensile milling interface. The interface allows the operator to quickly and easily enter your desired tensile specimen size based on the parameters listed in your ASTM, ISO, DIN, JIS or other industry standard. By simply entering your required measurements, the machine is ready to mill in seconds.
The tensile software interface saves and provides quick access to previously entered specimen sizes. It also includes a diverse library of preprogrammed tensile specimens allowing the operator to quickly launch a program without having to enter any measurements at all. With your new TensileMill CNC - Flat Specimen Preparation, you also have access to our standard Carbon software interface; our intuitive and powerful CNC control system with endless possibilities.
Controller
Our easy to use touch screen controller is equipped with our complete Carbon software. Our control systems include 64 Gb of storage, 4 Gb of RAM, WiFi, Ethernet, USB ports, macro B programming, 254 tool offsets, 126 work offsets, helical interpolation, drilling canned cycles, scaling and mirroring, advanced trajectory planning, cutting edge dual mode cutter compensation, and more. Along with the tensile milling software interface, Carbon also allows the operator to access the MACH4 Industrial CNC Software used for professional CNC Control functions. Our Carbon software is constantly having new features developed, and every TensileMill CNC system includes updates at no additional cost.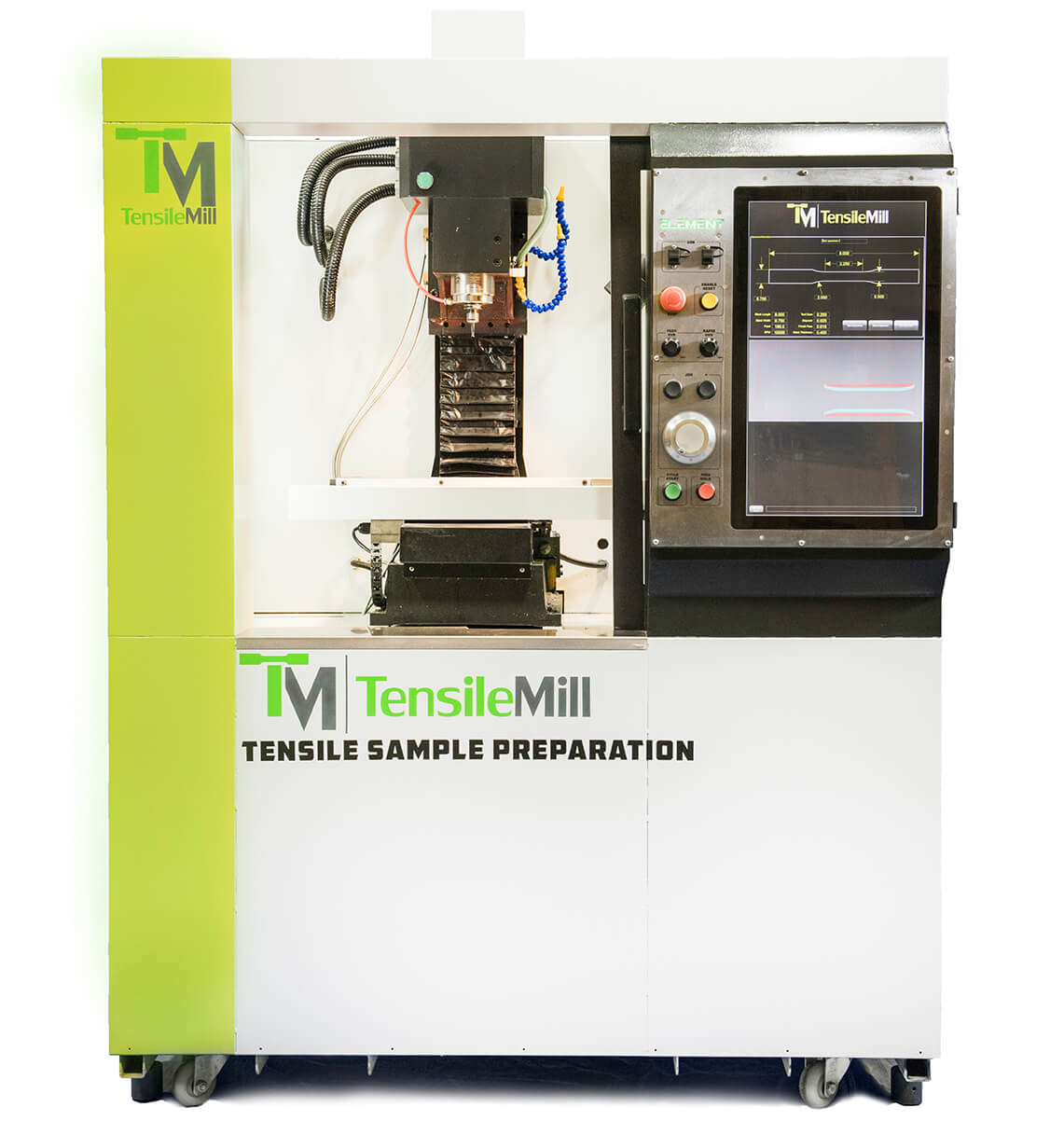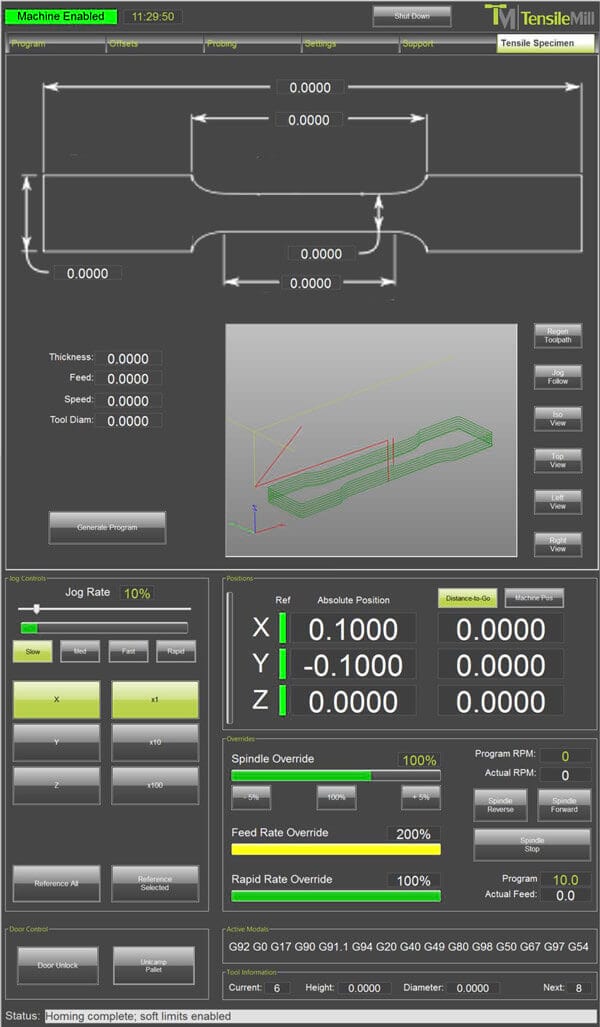 Specifications
TensileMill CNC is a small, high speed, machining center designed for the testing industry in mind. Although small in size, TensileMill CNC is built on a heavy cast iron frame and all axes slide smoothly on linear rails. 24,000 RPM ISO20 spindle and high powered servos provide excellent machining capability.
Features
21.6" x 6.3" Table
Hiwin precision linear ways
3000 to 24,000 rpm precision spindle
220V 15A single-phase AC
ISO 20 Spindle Interface
High quality casting
Compact structure
PMI double nut ballscrews
High-quality electrical components
Automatic lubrication system
Axis bellows covers
Full enclosure
CE and CCC safety certification
Technical Specifications
TensileMill CNC

X Travel

10.6"

Y Travel

6.3"

Z Travel

10.6"

Table Size X

21.65"

Table Size Y

6.3"

Face Mill Capacity

2"

Min Spindle Speed (RPM)

3000

Max Spindle Speed (RPM)

24000

Spindle Type

ISO 20

Motor Size (hp)

2 HP (1.5 kW)

Spindle Control

Yes

Flood Coolant Included

Yes

Homing Switched

Yes

Control System

CARBON CNC

Position Repeatability Accuracy

0.0004"

Rapid Traverse Speeds

500 ipm

Screw type

Ball Screw

Backlash Compensation

Double - P5 class PMI

Weight (lbs)

1200

Dimensions

49.2 x 57.1 x 76.8 in (1250 x 1450 x 1950 mm)

Voltage

3HP 220V/50/60Hz 1ph

Connection Requirements

Pneumatic
Video
TensileMill CNC Classic - Preparing Flat Tensile Specimens
What base fixture comes standard with the Classic tensile CNC milling machine?
The Classic comes standard with a single-sample base fixture and 1 clamping fixture for a standard 8" sample. Custom options and clamping fixtures are available by request.
What is the voltage requirement for the unit?
The TensileMill CNC requires 3HP 220V/50/60Hz 1ph.
Submit a quote request today and our qualified CNC engineers will be happy to assist you!
Is TensileMill CNC classic considered a small CNC mill?
The Classic model, though robust and powerful when it comes to tensile sample preparation is considered a small CNC mill. With relatively compact dimensions of 49.2 x 57.1 x 76.8 in (1250 x 1450 x 1950 mm) the Classic is capable of fitting within virtually any "smaller" laboratory facility.
When choosing the right tensile specimen preparation machine, we suggest that you request a detailed quotation for the optimal machine.
What software comes standards with the TensileMill CNC Classic?
TensileSoft™ is the standard CNC software that comes with the purchase of the TensileMill CNC Classic unit. This advanced software allows an operator to benefit from a variety of functions that make tensile sample preparation a walk in the park.
Firstly, the software comes with common industry standards that are widely used in the tensile samples preparation industry. ASTM, ISO, JIS and DIN are some of the examples. This means the operator can select ASTM → ASTM E8 and Press Go to begin the milling process. It is that simple.
What is more exciting is the FAVOURITES section found on the software which allows to access the most commonly used milling parameters even more simple. The operator can now begin the milling process with a push of two buttons.
But what if you require new technical specification for your dog bone samples or perhaps even other CNC machining specifications? The of this tensile preparation software is that it allows to save ANY parameters in the database for ease of access, no matter how simple or complex. The bottom line is that you will always be 2-3 buttons away from achieving your accurate tensile sample preparation results.
What is the longest tensile specimen that you can prepare with your TensileMill CNC?
The classic TensileMill CNC flat tensile specimen preparation machine can accommodate parts of (X by Y by Z) 10.6 by 10.6 by 6.3" dimensions. The versatility of this classic tensile sample preparation machine allows for medium to high tensile sample volumes. The Y travel along with custom tool fixtures offered standard with the classic unit allow for stacking capabilities to increase your tensile preparation output. Contact us to learn more.
Do you offer refurbished units for ASTM tensile test specimen preparation?
TensileMIll CNC Inc produce a high volume of tensile test specimen preparation machines in accordance to ASTM, ISO, DIN, and JIS standards. Over 95% of our tensile sample preparation production is manufactured to order. The other percentage of tensile test specimen machines may be refurbished. Inquire about refurbished options today by contacting our CNC consultants today.
What information do you require regarding my application in order to submit a quotation for a complete TensileMill CNC system?
Thank you for considering TensileMill CNC to be your tensile specimen preparation solution. In order to send you the most accurate quote for your flat tensile sample preparation needs simply fill out the Detailed Quote option found in the top tab. Our qualified CNC engineers will be happy to assist you!
Can I machine flat and round tensile specimens with my TensileMill CNC?
TensileMill CNC currently handles only flat tensile specimens. We do have plans to upgrade our TensileMill CNC to have the capabilities of machining round specimens. Ask us for more information by contacting us today.
Can I stack samples for fast tensile sample preparation?
Stacking samples is the perfect way to expedite your tensile sample preparation. TensileMill CNC offers a standard clamping device for your stacking needs which allows for fast tensile sample preparation for virtually any material. The clamping device allows you to stack samples up to 1" in thickness. The specimens are firmly held in place, allowing the machine to run its mill until the perfect tensile samples are produced. Specialty clamps are available based on your unique specimen needs. Learn more about fast tensile sample preparation or request quote.
What is the cost of a TensileMill CNC?
Thanks for inquiring about our price! We would be happy to provide you with a competitive quotation for our TensileMill CNC. Please contact a product consultant today by completing the following form: Get Quote
Can I use my own milling tips on the TensileMill CNC?
We understand that you may have pre-approved vendors for machining consumables. The TensileMill CNC is compatible with a wide variety of tips for preparing your specimens. You may also contact a product consultant today to review which tips are most ideal for retaining the best edges on your tensile specimens with your specific material.
Submit a quote request today and our qualified CNC engineers will be happy to assist you!
What kind of maintenance is required for the classic TensileMIll CNC tensile test sample preparation?
Preventative maintenance is the ultimate machine longevity enhancer. The classic tensile test sample preparation machine has a maintenance chart that comes standard with the unit. The chart contains daily, weekly, monthly and seasonal maintenance guidelines for your tensile sample preparation needs. Contact us today for more information.
Sample preparation problems? Introducing . . . the new TensileMill MINI
The struggle of accurate tensile test specimen preparation with manual or regular CNC machines has been ongoing amongst various manufacturing, education and government organizations. The top earning engineers spend 80% of their time preparing samples for tensile testing purposes. The sad statistic is that "preparing tensile samples" output only amount to 20% of the required output for companies to justify salaries and profitability. It is about time for the tables to turn. What if only 20% of the time was spent on preparing the samples? What if the samples were prepared accurately to specifications every single time by any experience level operator? This would be a game changer, wouldn't it?
Introducing the new and improved TensileMill MINI!
With a 24,000 RPM ISO20 spindle and high-powered servos, this little powerhouse of a machine is not only cost-effective, but a game-changer for your medium volume tensile sample preparation needs.
Set and Go
In the past, special operator skills made for costly labor and the possibility of serious errors that were difficult to catch. The MINI allows specific samples to be set easily with little user skill or time involved, ensuring consistency and better end results. This is done with our superior TensileSoft™, a tensile specimen software that allows to produce results in seconds with a push of a few buttons.
Time Saver
When volumes and demand are high, there's no time to waste. The time-saving TensileMill MINI operates at enhanced speeds on a powerful carbon software system that can be customized to meet any ASTM, DIN, ISO, or other standards. Imagine having your samples be prepared by 50%, 100% or 600% less time than with the traditional methods. This is the unique value that the MINI brings to the table.
Compact
Short on space? There's no better compact unit on the market than the TensileMill MINI. The small dimensions allow minimal lab space requirements while still creating high quality tensile specimens as needed.
Precision
When it's all said and done, precision is the most important aspect your customers are concerned with. The required industry standards imposed on virtually all manufacturing, education and government facilities are exact and have minimal error margin allowances. The MINI's enhanced accuracy and consistency in tensile test sample preparation makes it an exciting new solution. No one offers more consistent uniformity in samples, while meeting all standard requirements. This means that you can rest assured that your machine will mill the samples to required industry standards every time, whether you are milling a single sample or stacking samples for efficiency.
User-friendly
With standard interfaces such as touch screen, USB ports, and system storage ports, operators will find the machine easy to use and efficient in getting their job done. The user-friendly software interface allows operators to simply enter the requirements and let the machine do the rest with just a push of the button.
Customize
Have special considerations that need to be met? In addition to standard software, the MINI can be upgraded to various tools and work offsets, and MACH4 Industrial CNC software. No matter what your unique application is, by simply letting us know, our engineering team will work its magic to accommodate it!
What is the TensileMill CNC?
The TensileMill CNC is a robust machining center that can be positioned on your production floor or in your laboratory. The tensile interface was designed to allow for the machining of tensile specimens by operators with no previous machining experience. Contact a product consultant today if you have any further questions on the positioning of your new TensileMill CNC!
Submit a quote request today and our qualified CNC engineers will be happy to assist you!
How many tensile specimens can I prepare at any one time?
In order to pinpoint the quantity of specimens that can be prepared in one cycle, we advise that you speak with our Product Consultants to further discuss your application. Flat tensile milling quantity of samples and the time it takes to complete the machining process will depend greatly on the material type, the hardness and thickness of your material. Submit your request or call us today for additional details!
Do you have refurbished options available for the TensileMill CNC Classic?
Depending on the season, we tend to have a few refurbished machines in stock. The priority for the refurbished tensile sample preparation machines stock goes to non-profit government and educational facilities. If refurbished is the only way for your organization to go, you may be placed on our wait list. Generally speaking our wait list times are between 2-7 months on top of the standard lead time of the machine. You may place yourself on the list by submitting your quote request with REFURBISHED OPTION note within the request.