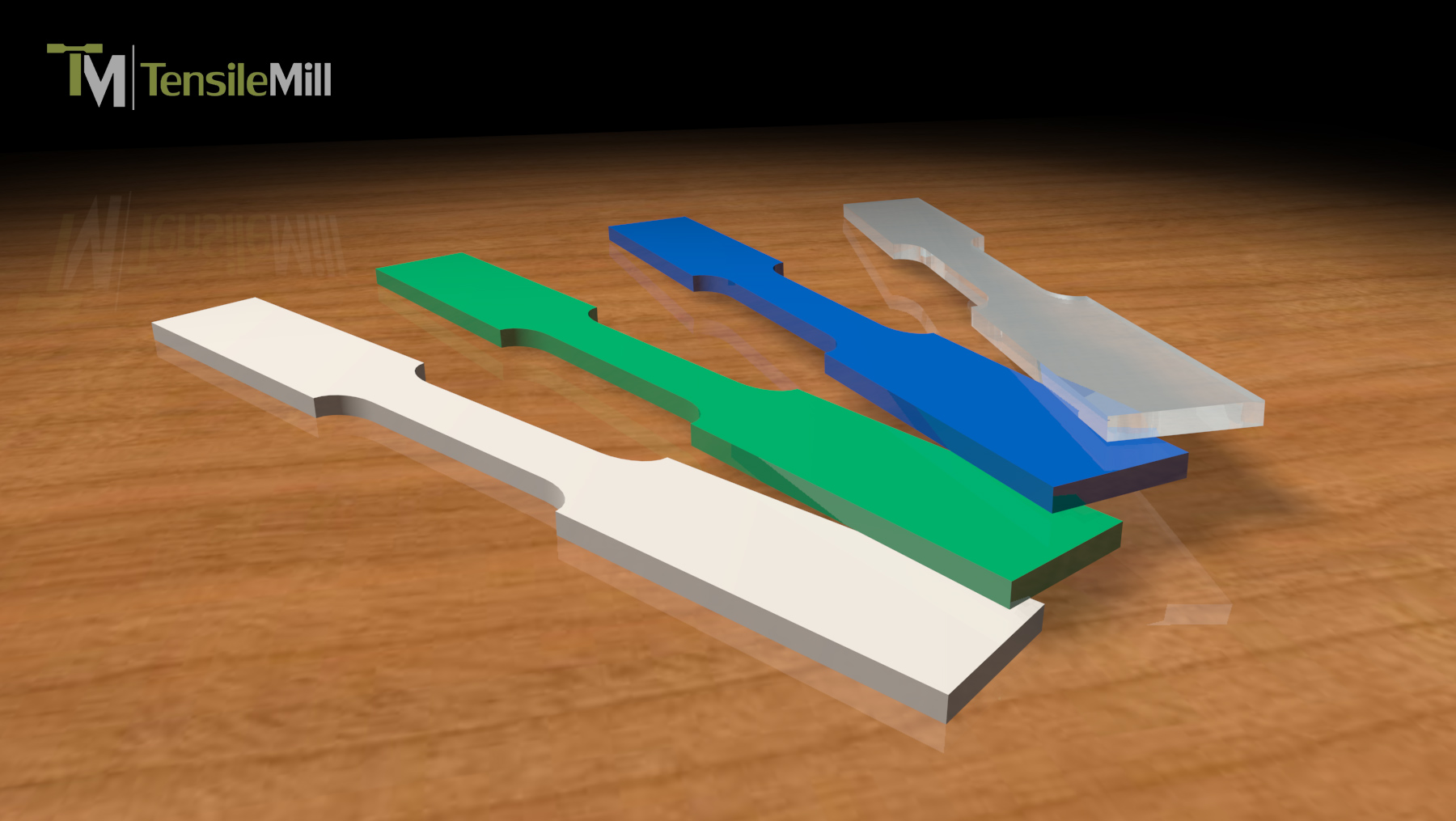 Preparing Flat Tensile Specimens from Plastic and Composite Materials
The strength of plastic can be measured through tensile specimen preparation. Plastic and composites are some of the most widely used materials in the world. Lightweight and considerably strong, these materials have many uses and improvements have made it possible to replace traditional materials like wood and even metal.
Plastic is a polymer with some substances mixed to enhance performance or reduce production cost. Plastic may be pressed, cast, or extruded into fiber sheet, film, glass fiber, fiber or fiber reinforced, bottles, tubes, and boxes. Thermohardening and thermosetting plastic can make it brittle, hard, or resistant to high temperatures. Thermosets include polyester resins, epoxy resins, polyurethane, and phenolic resins.
In order to measure product strength and quality, plastic and composite materials are subjected to tensile testing. The tensile test is designed to measure the amount of load that is required to break a plastic test specimen and also the elongation and stretch brought about by the breaking load.
The results gathered from the tensile tests can be used when designing parts that can withstand forces applied to them. Tensile tests can also be used when checking the quality of the plastic material.
To prepare for the test, a tensile specimen preparation machine is used. This equipment cuts out tensile coupons or dog bone shaped with defined dimensions according to ISO, DIN, EN, ASTM, and other industry standards.
When it comes to plastic tensile specimen equipment, one brand stands out – TensileMill CNC. They offer equipment that can easily and effectively prepare both plastic and composite tensile samples for virtually any milling volume to be tested for tensile strength.
Efficiency matters
Manufacturing facilities are notorious for improving accuracy and efficiency. The name of the game is to make the process as simple as possible with least operator attachment to the milling process. This allows the operator to perform alternative tasks while the automated machine does its job.
Tensile samples can be prepared in strips or in sheets. Strip preparation is a process by which individual strips or stacks of strips are placed in the custom tensile clamping fixtures for milling. The machine then cuts the specimen(s) around the fixture to be perfectly within the necessary industry standard.
Sheet preparation allows to secure sheets of various dimensions and have the specimens prepared from the top of the sheet. This method offers additional efficiency because of strip cutting process elimination. All flat sample preparation units from TensileMill CNC offer the capability of both.
The TensileMill Lineup of Flat Specimen Preparation Equipment
TensileMill CNC is a market leader in manufacturing user-friendly flat tensile specimen preparation machines. Using their products, the preparation of flat tensile samples becomes quick and easy. Their machines boast of ease-of-use, precision, and speed. Each flat specimen preparation from their lineup is capable of churning out perfect specimen for your tensile testing requirement. Here are their current offerings.
The TensileMill CNC MINI – Compact Flat Tensile Specimen Preparation Machine
This tensile sample preparation equipment might have a small footprint but it packs power and features that are found on regularly sized machines of other brands. Its size can be deceiving as it is one of the most flexible machines TensileMill offers and it's equipped with full machining capabilities. The technical specifications of the TensileMill CNC MINI – Compact Flat Specimen Tensile Preparation Machine are quite impressive for a machine of this size.
The goal of TensileMill is to make the preparation of high-quality tensile samples fast and easy. That's why they made the TensileMill CNC MINI user-friendly by bundling a 10-inch LCD screen with the basic package. Working in the background is the well-known Tensile and Carbon applications with a milling interface that's easy to learn and master.
Via the interface, the operation of the TensileMill CNC MINI can enter the required tensile sample size. Sizes are based on industry standards such as JIS, DIN, ISO, ASTM, and others. After entering the dimensions, the machine prepares to mill in a few seconds.
This machine might be small compared to the other models of the TensileMill CNC series but the 2.2kW Water Cooling Spindle combines with designated tooling can prepare hard materials like steel and soft materials like plastic in large volumes.
All entered tensile sample dimensions can be saved for future use. These can also be tagged as favorites so milling with these saved dimensions can be done with two clicks on a button. There are also dimensions that have been preprogrammed into the machine so the operator can start a program without entering any measurements.
When production has grown, the TensileMill CNC MINI can be upgraded to full Carbon software. This upgrade comes with a 21-inch touchscreen with 64 GB storage, 4 GB RAM, Ethernet, WiFI, macro B programming, USB ports, 126 work offsets, 254 tool offsets, drilling canned cycles, helical interpolation, advanced trajectory planning, scaling and mirroring dual mode cutter compensation, and more.
The Classic TensileMill CNC – Flat Specimen Preparation Machine
It's the midrange of the TensileMill CNC tensile specimen preparation machine series and their bestseller. Run by the same software that powers the TensileMill CNC MINI, it's also user-friendly, fast, and intuitive.
This version is also more powerful and is designed for medium to large volume production. The Classic TensileMill CNC – Flat Specimen Preparation Machine is also bundled with the full Carbon software and upgrade specs on the MINI come standard with the classic.
The TensileMill CNC XL – Flat Specimen Preparation
For more demanding production requirement, TensileMill CNC presents the XL. It's a dynamic and powerful addition to the production floor. It has impressive material removal rates due to the high-power servos and spindle. Compared to the Classic, the XL has longer travel distance, larger table dimensions, more powerful servo, and more tooling options.
Works on All Types of Plastic and Composites
The TensileMill CNC Flat Tensile Specimen Preparation machines can easily work on metal which means they work well with plastics, too. Because of the tooling options, user-friendly tensile testing software, and robust designated machine components, they can be used to prepare virtually any type of composite and plastic samples.
Contact TensileMill CNC today to learn how their solutions can meet your specimen preparation needs.